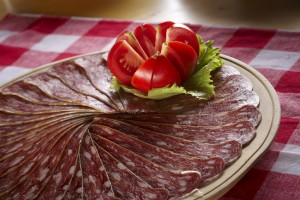 The hut was built in 1937 and it has recently been renovated. Our food and accommodation cater to everyone who values traditions and cosiness.
Food
Our menus are based on traditional cuisine and locally produced ingredients. We serve various cured meats, cheeses, stews (goulash, veal stew, sauerkraut and bean stew, etc.), and venison dishes (deer goulash, deer steaks), but most guests return for the mushroom soup, buckwheat mush with cracklings, cheese dumplings, and various strudels. We organize picnics, lunches, and food tastings for larger groups (cured meats, cheeses, cottage cheese, etc.), and our small store has a selection of many traditional products: jams, cookies, tea, honey, ground elder syrup, as well as items made of wood and wool.
---

Accommodation
In July and August, the Logarski alpine pasture is open to stationary guests and to pre-booked tables.
For more information call +386 41 210 017
You can sleep in of our 5 twin rooms, 1 four-bed room, and 1 nine-bed room. The rooms are simple and the showers and toilets are in the hallway.
The prices for overnight stays are valid for a minimum stay of 2 days with us, an additional payment is required for one night's accommodation.
(adults €5.00, children €3.00)
Tourist tax (€ 2.00) is not included in the price.
---
SLEEPING UNDER PLANJAVA
If you'd like to have a simple night's sleep straight from the old times, you can enjoy a night in the hay, but we suggest that you bring a sleeping bag.
You can also pitch a tent on the meadow behind the hut, just let us know of your plans beforehand.
You'll awake to the sounds of the singing birds and later our two small donkeys, named Miki and Piki, and our friendly dog Bonko will come and say hello.
MENUS FOR LARGER GROUPS
We also host larger groups (up to 30 people) and organize birthday parties, anniversaries, business lunches, weddings, etc.
We've prepared some menus, but we're happy to modify them in accordance with your wishes. Take a look at our group menus..