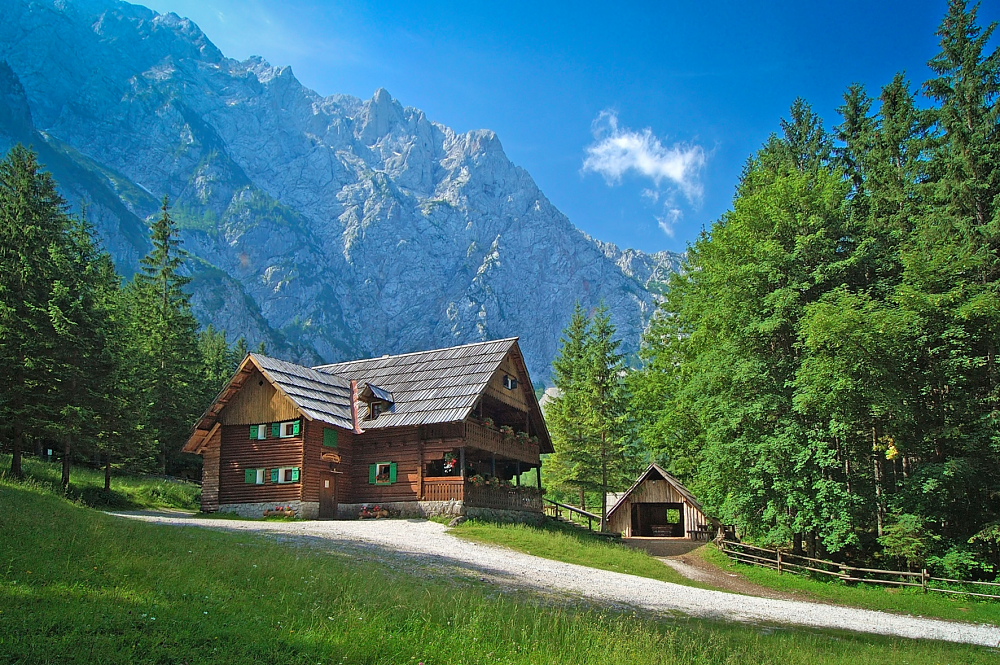 In the upper part of the beautiful Logar Valley, on a lovely meadow beneath the sheer rock faces of Planjava, awaits the Logarski kot wooden hut. This idyllic hut which serves delicious home-made, traditional food used to be a mountain shelter, an alpine dairy farm, and a partisan hospital. You'll love the traditional local cuisine, which can be enjoyed in our pleasant garden or in the dining room warmed by the fireplace.
Logarski kot is the last place offering food and accommodation before the Rinka Falls in the Logar Valley. It's on the left side of the road (driving up the valley) and there are wooden signboards showing the way to the parking lot. The hut was built in 1937 and it has recently been renovated. Our food and accommodation cater to everyone who values traditions and cosiness.
Our menus are based on traditional cuisine and locally produced ingredients. We serve various cured meats, cheeses, stews (goulash, veal stew, sauerkraut and bean stew, etc.), and venison dishes (deer goulash, deer steaks), but most guests return for the mushroom soup, buckwheat mush with cracklings, cheese dumplings, and various strudels. We organize picnics, lunches, and food tastings for larger groups (cured meats, cheeses, cottage cheese, etc.), and our small store has a selection of many traditional products: jams, cookies, tea, honey, ground elder syrup, as well as items made of wood and wool.
The beauty of the hut's surroundings is breathtaking. Kids can have fun on the playground, while you can enjoy the view of the mighty rock faces of the Kamnik-Savinja Alps. The hut's pleasant dining-room is made of wood and the fireplace provides pleasant warmth during colder evenings. How romantic!