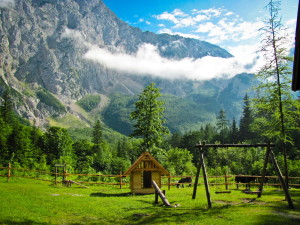 The hut is a perfect starting point for a walk to the Rinka Falls (half an hour, the trail runs past our hut). If you decide to walk down the valley, you will soon reach the Magic Forest, which is extremely popular with kids of various ages.
Anyone who'd like a more challenging hike can visit the Okrešelj mountain hut, Kamniško sedlo mountain hut, or Klemenča jama mountain hut.
If you'd like to go even higher, there are numerous wonderful peaks for you to choose from (Mrzla gora, Štajerska Rinka, Kranjska Rinka, Skuta, Brana, Planjava, etc.).
The Logar Valley is a gem with unlimited potential.
You can hike, climb, walk, cycle, explore the wonderful world of alpine plants and animals, enjoy the various culinary treats, or just relax.